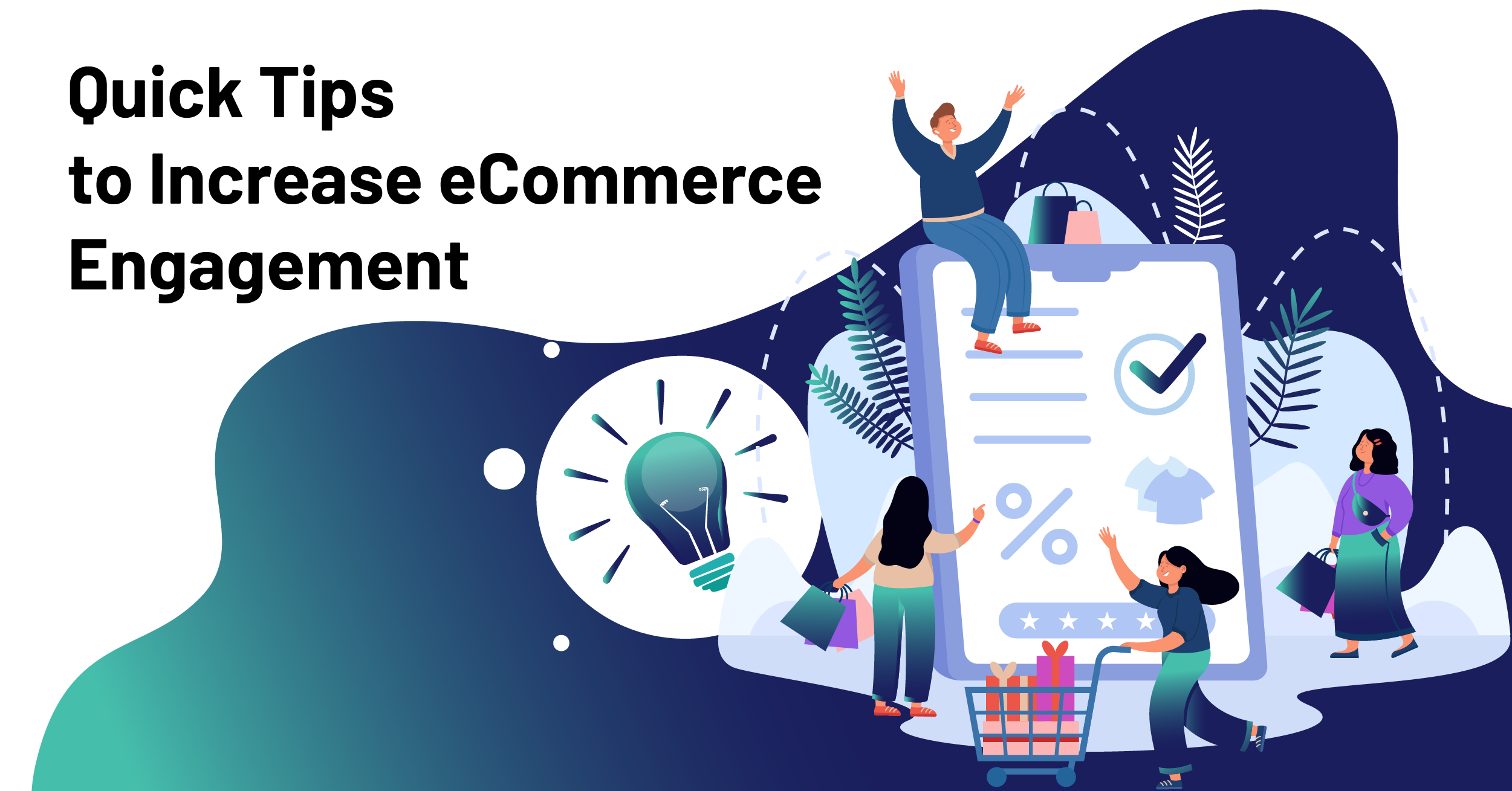 eCommerce has been on a tremendous rise over the past six to seven years. With several brick and mortar shops entering online shopping, the scope of the digital retail transformation has further widened. The expanding market segment would also give way to proportionally growing competition between retailers. As a result, the most prominent way to thrive in this competition is to enhance eCommerce engagement.
Unsurprisingly, people want personal attention. Nobody wants or deserves to be treated as just an entity or a number. Therefore, customer experience becomes a prime brand differentiator that holds more weight than price and even products, commodities, and services.
To achieve the target of a higher retention rate, maximize conversion, and enhance profitability, an eCommerce platform must look for and implement ways to improve the overall customer experience and increase user engagement.
Top 6 Ways to Increase Customer Engagement in eCommerce
If you want to boost your sales figures or think your eCommerce store is not keeping up with the numbers you intended, follow these six established approaches for better customer engagement.
1. Personalize Your eCommerce Content
Personalization of eCommerce content is beneficial for cross-selling and other purposes. It entails presenting consumers with tailored deals, such as unique items, similar products, promotions, favored categories, and personalized search results.
Personalized content can be displayed to a user based on past and recent activity that includes:
Purchase history
Visited items and product pages
Clicked advertisements
Responded email campaigns
Personal information like geographic location and demographics
You can analyze this data and obtain valuable insights using various user analytics tools.
An excellent technique that will help you boost your engagement rates is utilizing AI-powered personalized recommendations. AI pitches user-friendly suggestions on several eCommerce website sections like home page, product page, or cart page.
Moreover, it is effective in promoting intelligent search and suggesting similar products to users, keeping them engaged.
2. Explore the Opportunities Presented by Social Media Platforms
Social media itself is a platform to interact with the users and increase overall engagement. Here's how you can harness the power of this tool:
Use paid ads to target potential and existing customers and boost site traffic.

To generate organic traffic, post engaging social media content mentioning links to your eCommerce site.

Provide real-time response to users by integrating live chat features on the social media pages.

Reward users to share your products via embedded share icons on the profile page.

Set alerts through social media on the new product listing, price drops, and discounts.
3. Promote User-Generated Content
Encourage customers to engage with your eCommerce site by giving them a voice. Product feedback, tweets, a selfie with your product by verified users, blog posts, social media tags and mentions, etc., are sources of user-generated content.
It gives the impression that your goods are well-known and reliable. This way, the consumer can witness real people using and enjoying your products.
4. Suggest Products Based on the Buyer Profile Data and Preferences
Buyer personas are necessary if you want to gain a deep understanding of your target audience and increase user engagement. Proper analysis of your customer base enables you to tailor your product your service to meet their demands.
The best way to make the most of this data is to implement recommendation bands. These bands make recommendations and display your visitors the best-selling products based on their tastes and preferences.
More than that, the bands can be strategically positioned on various sections of the eCommerce platform, based on the outcome you are aiming to achieve.
For instance, you can place recommendation bands on the home page to display bestsellers, on the product page to promote similar products, and even on the cart page for up-selling and cross-selling items.
5. Create Relevant High-Ranking Content Consistently
The most prominent eCommerce engagement strategy that brings new users onboard and drives an enormous number of sales is providing relevant and scalable content regularly.
Content like high-quality blog posts, product reviews, and press releases help users decide whether or not to buy a product. In addition, it convinces them that you are an expert, improves your SEO rankings, and creates an opportunity to be recommended across numerous online platforms.
You can follow a content-driven strategy by attaching links to the content piece on your site's product pages.
6. Strategize Your Sales Promotions
Some of the most successful methods to increase customer engagement and maximize conversion rates include offering a discount on products, free shipping options, coupon and promotion codes, vouchers, etc.
Offering discounts on your best-selling products is a fantastic way of tempting a customer for a premium membership, newsletter subscription, or signing up for email updates.
Loyalty programs are yet another way to build ongoing relationships with customers. You can incentivize customers to keep shopping on the platform and recommend your products to their friends and relatives.
The Bottom Line
With ever-evolving consumer tastes, the eCommerce market is very competitive. You can lose many customers if all your eCommerce strategies are oriented towards one goal – 'sell'.
Rather, the best way to thrive and survive is to win the trust of your customers and maintain relationships. The websites that invest in eCommerce personalization today are the only ones that will remain profitable in the long run.
The above-discussed tips will help you improve the overall user experience and enhance your understanding of customer expectations and services, eventually leading to higher sales.
Of course, it's challenging to implement all of these strategies at a time, but even if you start out with one or two, you are likely to see results.