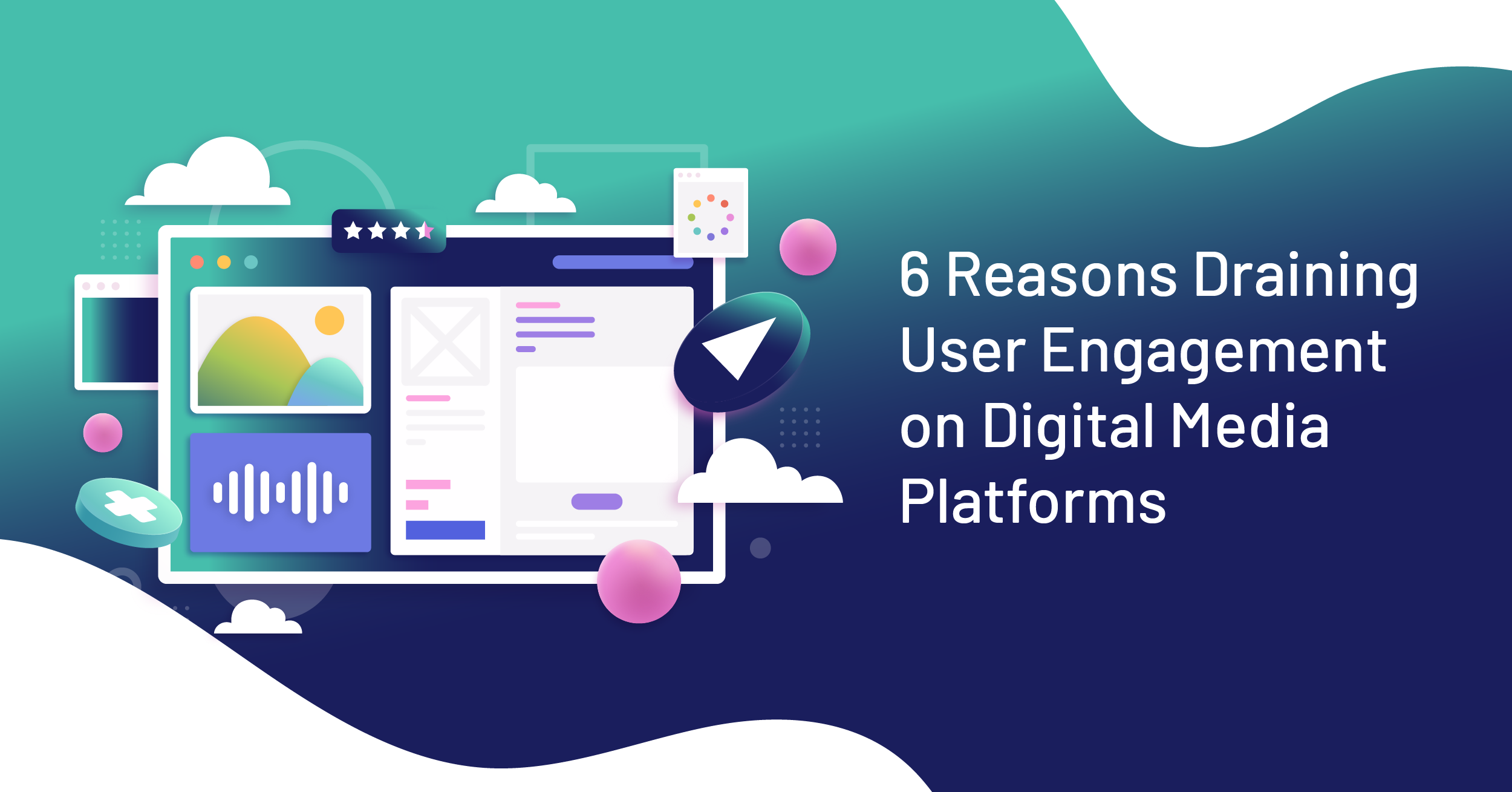 With the shift of mass viewership from binge-watching to live streaming OTT content, digital media platforms have only been on the rise over the last couple of years and will only continue to grow in the times to come. User engagement on digital media is a vital factor.
The popularity and success received by the Indian Premier League as a live-streamed event on digital media platform Hotstar is one fine example of the same. The demand for OTT services is on the surge along with a never-ending array of OTT content and video published online. With that said, producing content that makes the viewers stick to the platform and boost consumer engagement is the most critical factor in deciding the success of the platform.
Lack of which, inevitably becomes the reason draining user engagement on digital media the platform. This blog highlights the top 6 reasons draining user engagement on digital media providers and video content publishers on their digital media platform. Let's have a look.
Reasons Draining user engagement on Digital Media Platform
1. Content
Needless to say that content was, is, and will always be the king. Providing compelling content is first and foremost to sustain your viewer's engagement while growing your viewer base and keep them coming for more. The absence of which is the number one reason making your subscribers call it off with your digital media platform.
2. Content Discovery
With a plethora of options to choose from, content discovery is a major challenge as well as the reason for concern for OTT service providers. Online, on-demand content is becoming increasingly popular and widely available, hence is more likely to make viewers get distracted. Viewers also don't prefer to browse through multiple channels or spending most of their time surfing to find what they want to see or what they would be interested in seeing. This calls for creating a personalized viewing experience to be provided by OTT providers. The answer to this challenge lies in enhancing their content discovery functionality in a way that helps map it with the viewer's habits and previous choices. Focusing on viewers' convenience by providing them suggestions as to what to watch basis their previous choices and surfing habits, is definitely a strong way to make a lasting connection with them.
3. Global Reach
OTT content being mostly consumed through mobile devices implies that the content needs to have a global reach since it can be watched from any part of the world. Creating content for niches watching in specific languages or for people of specific interest areas makes it difficult for them to do economies of scale owing to the limited reach of their content. This challenge needs to address by OTT service providers by finding a sweet spot to balance their content that has a global reach and also doesn't leave its niche viewers behind.
4. Achieving the Scale
 Since in today's day and age, a video can go viral in a moment's time, it's definitely worth to think and prepare yourself for a situation like this when your content becomes a hive surrounded by a surging crowd. A valid question to be answered by OTT providers is how well they have prepared themselves to achieve the scale without over investing in the infrastructure.
5. Multi-device viewing
As mentioned earlier, more and more users are shifting from television to OTT content, moreover they are even not locked up to just one device. With a range of options in terms of viewing available to them, they also expect to be able to access and watch the content of their interest from anywhere and through any device. It goes unsaid, OTT providers face the challenge of enabling their content in a format that delivers it seamlessly across all different platforms be it smartphones, tablets, or smart TVs. This can be done. OTT service providers may need to work with technology partners who can provide similar quality content across various platforms while maintaining cross-device user experience.
6. QoE
Quality of Experience plays a massive role that may contribute to causing or reducing your subscriber churn. This is upon the OTT providers to find out and fine-tune the key KPIs to ensure the best viewing experience to their viewers. This will further lead to boosting the viewer's engagement with their content.
Conclusion:
OTT service market is increasingly becoming more competitive. Addressing the above reasons and challenges draining user engagement on digital media platforms is of critical importance for OTT providers and definitely calls for making some fundamental changes to your technology or workflow. In order to attract the right audience to your channel and retain the existing subscribers- personalization, differentiation, a robust technology platform, and a quality viewing experience for the user engagement on media consumer- will prove to be the key to crack the code, survive and thrive.